This is how you simplify espresso preparation and keep your coffee corner clean.
Espresso Accessories - especially at the beginning of the journey as a home barista, you really wouldn't want to ponder back and forth with yet another component when acquiring a portafilter machine, would you? 😬 However, it actually seems as if there is an almost endless amount of things to consider here: milk jug for 2, 3 or 4 cups, tamping station or mat, brush or not... knock-box possibility... What?!1? 🤯 Yet all you want is to do everything right and set up a proper & tidy coffee corner... But quickly, an opaque basis for decision-making turns into a wild mix of materials and surfaces including plastic, silicone, and metal. Mamma mia!! 🤌🏻
Wouldn't it be simple & wonderful if the accessories were sensibly put together and united the entire coffee corner into an intuitive entity? The answer: eurista.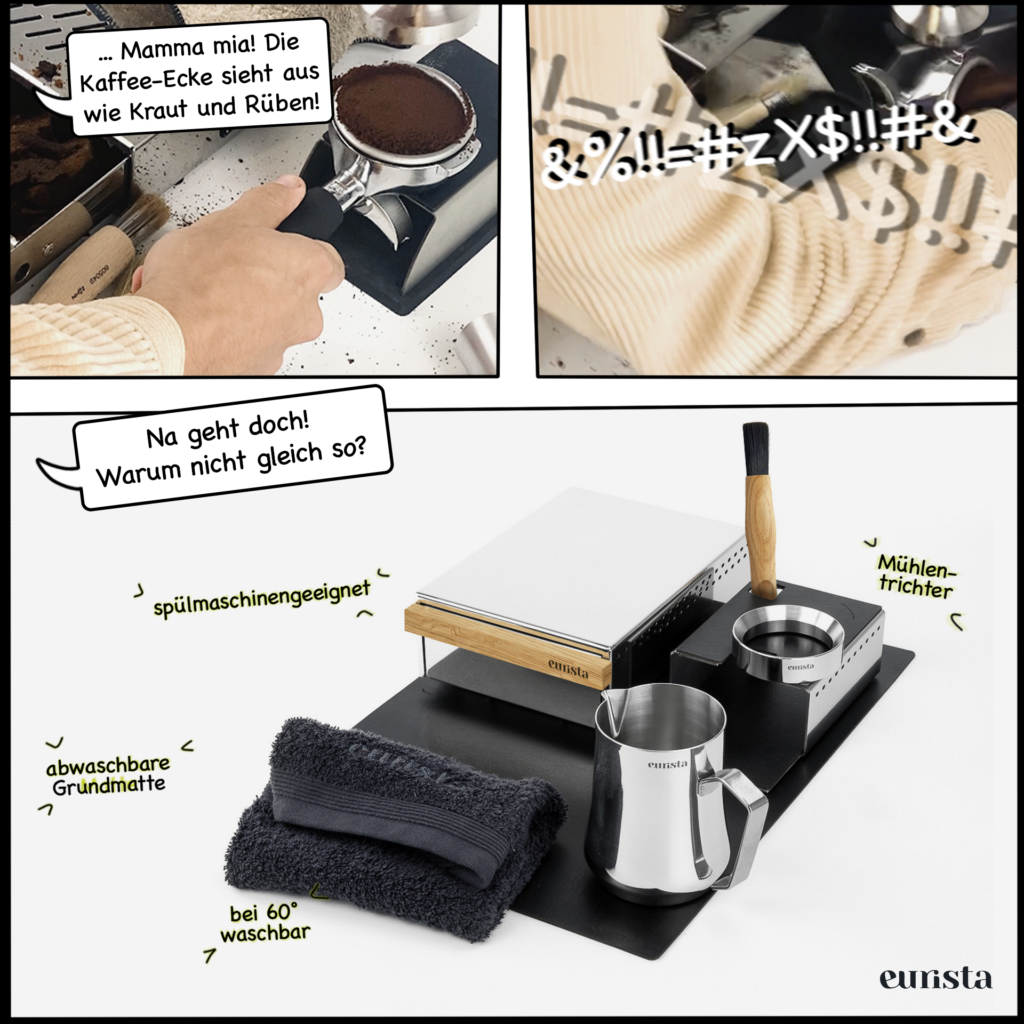 ... That's exactly what the @Team_Brewspire set out to do and launched the brand eurista. Embedded in the brand name are two principles: production of all accessories exclusively in the EU ("eu-") and a full focus on the home barista ("-rista"). ☕🇪🇺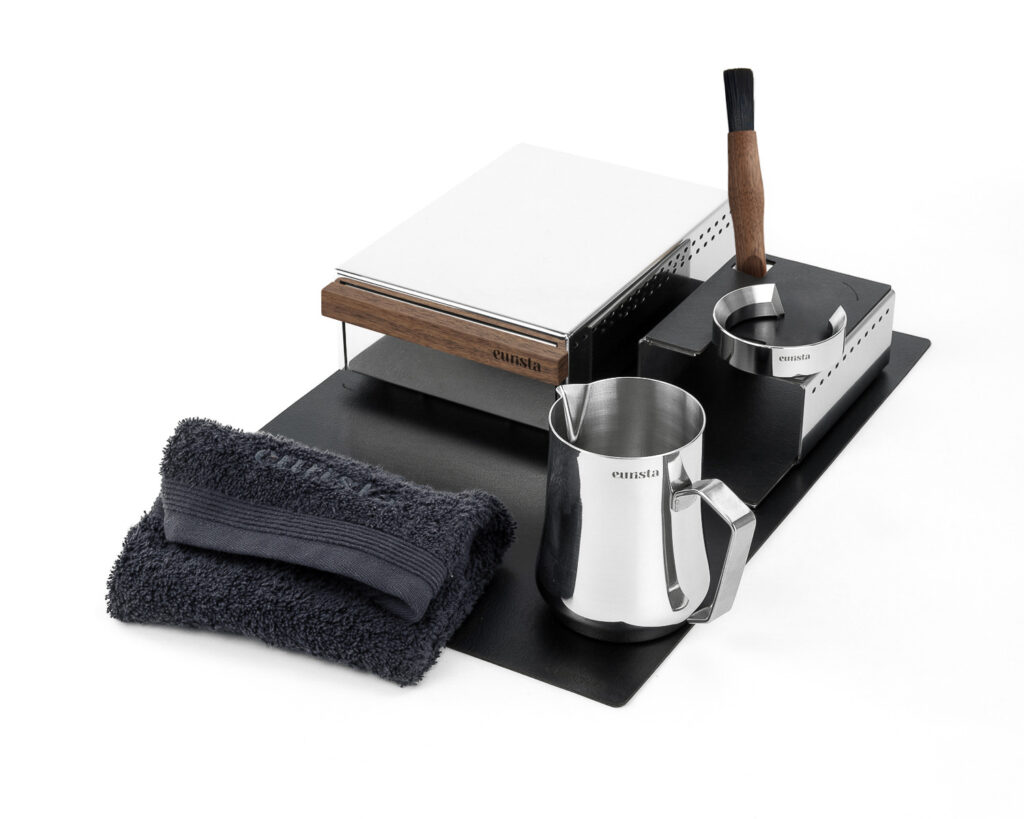 eurista Walnut Drawer Bundle
Using high-quality materials like stainless steel, solid wood, and a vegan leather alternative, the vision of a cohesive selection of accessories with high standards is realized: instead of many fragmented individual accessories, the maxim now is
"Machine, Grinder, and eurista"
Available here are selected accessories such as Espresso Drawer, Grinder Funnel, or Brush. These can be purchased as individual products or - as we gladly recommend for beginners - as a bundle. This pre-selection should help you find the right products. In particular, the eurista bundles around the eurista Espresso Drawer or eurista Knock-Box cover practically everything needed for a smooth routine, as we believe: along with the knock-box option, you'll find matching design elements such as grinder funnels, brushes, barista cloth, milk jug, and tamping station.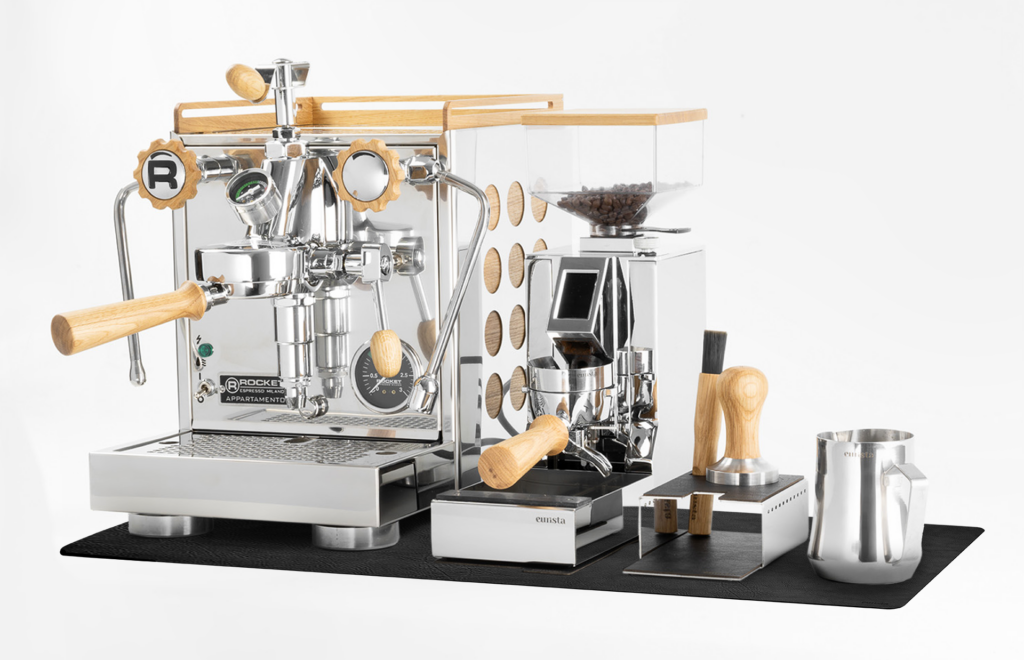 The top maxim in product design, which, by the way, was entirely carried out in Germany, is a holistic design approach with product functionality at the forefront while harmonizing the base materials with the core elements of the coffee corner.
So far, so good! But what can eurista accessories do?
It should be noted that each accessory has its own twist: with the eurista Knock Drawer, for example, you can detach the wooden handle and then clean the drawer in the dishwasher. With its dimensions, it's also a perfect match for the most common espresso grinders such as the eureka Specialità, ECM S64 (or C-Manuale 54), and Rocket Faustino. We already really like it for its high-quality craftsmanship and quiet knocking behavior! 🥇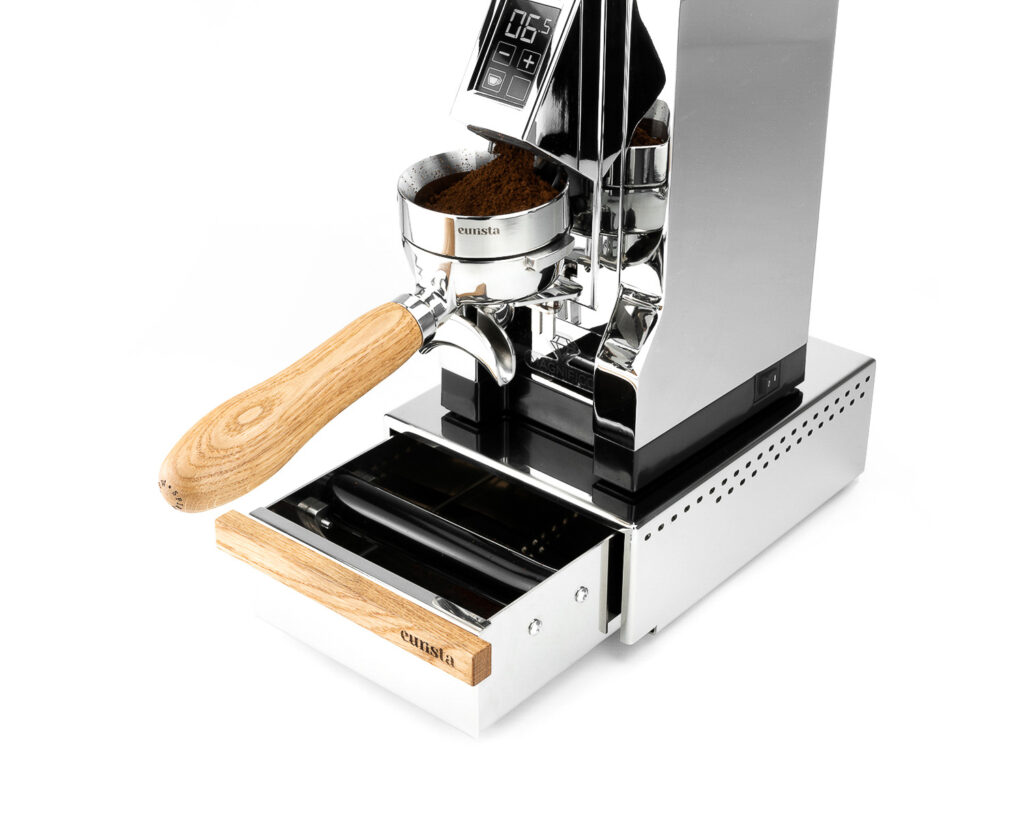 The eurista Stainless Steel Grinder Funnel has four inserted neodymium magnets and a specially shaped groove for optimal stability on the portafilter. Moreover, you can comfortably tamp through it with a tamper up to 58.5 mm in diameter. 💪🏻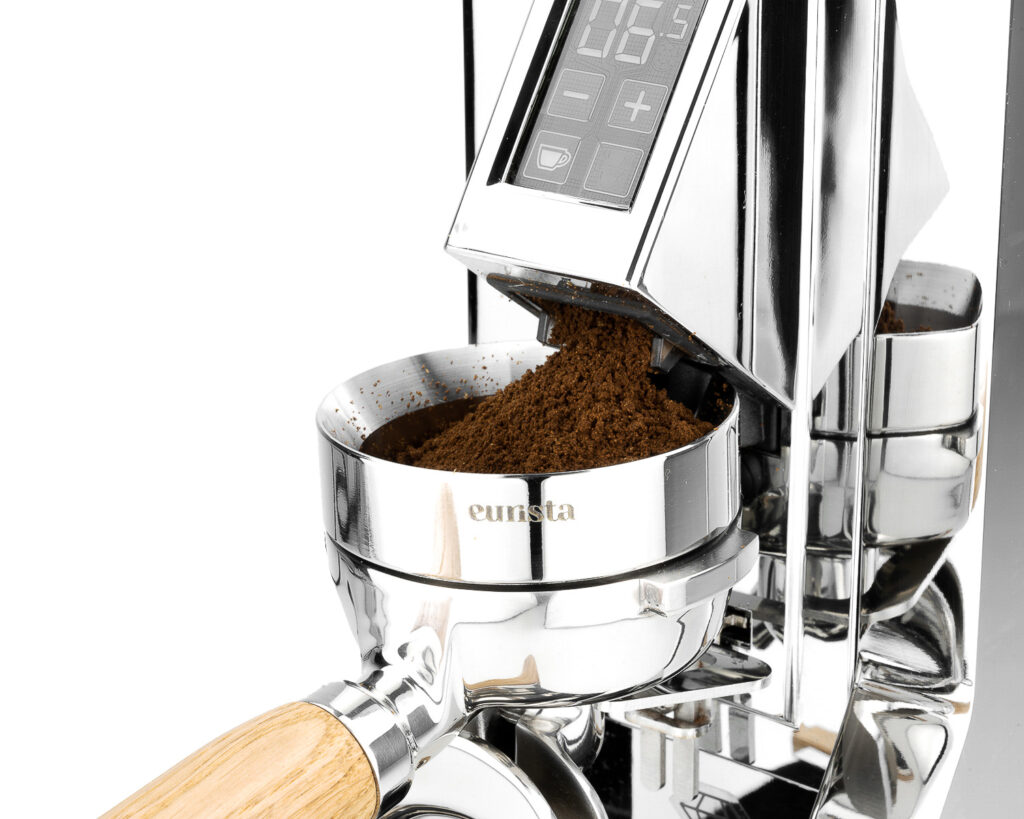 The eurista Knock-Box can be positioned as a true space saver in front of an eureka NewMignon Grinder (Specialità, Perfetto, etc.), collecting coffee grounds and drips from the portafilter. This way, it provides a space-saving, quiet, and cost-efficient alternative to the knock drawer! 🤗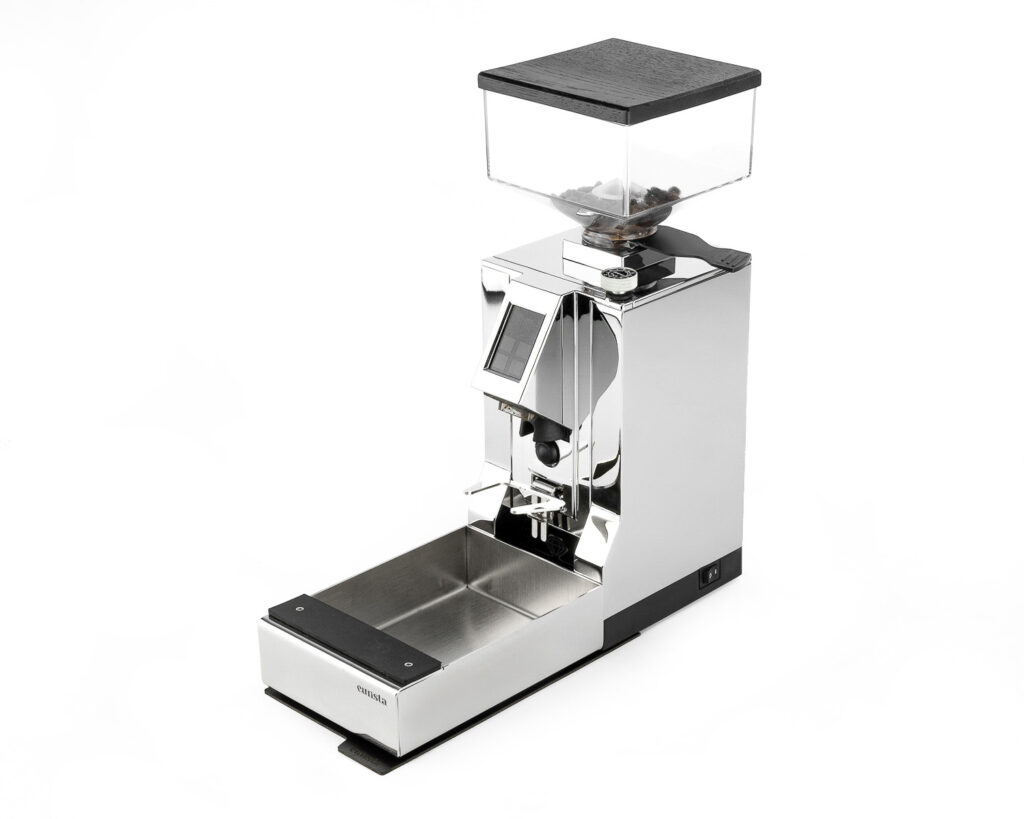 With the eurista Tamping Station, the integration of the brush and the grinder funnel is also perfect. We also like it because of its easy-to-clean surface made from a vegan leather alternative on the tamping or bottom area. It's easily washable and very resilient. 🏋🏻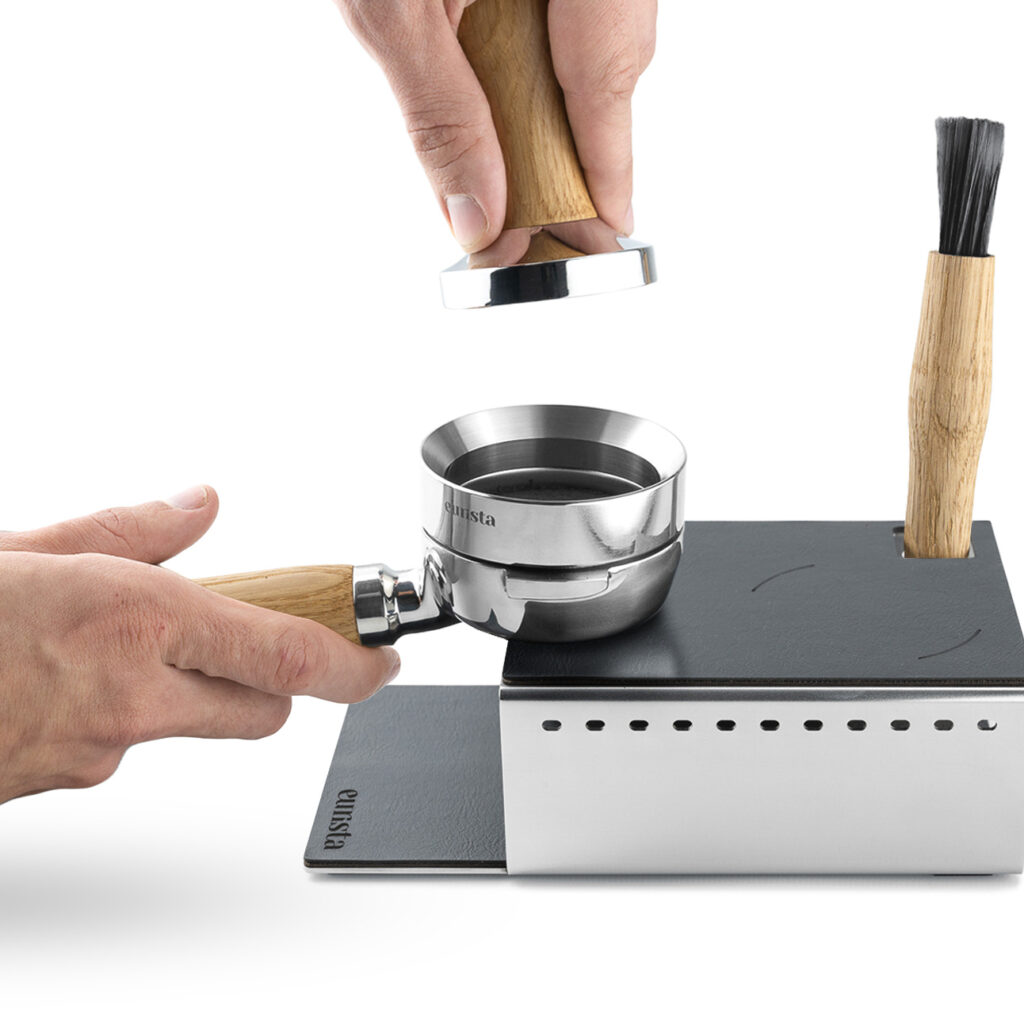 From our perspective, this is simply a must-have for every home barista: the eurista base mat. It's available in sizes S, M, and L, providing space for the espresso grinder including accessories (tamping station, espresso drawer, etc.; ➝ Size S) all the way to the complete setup of machine and grinder (Sizes M & L). Not only does it dampen the noise, but it also protects the surface from scratches, dents, and water spots. 🛡️